Who We Are & What We Do....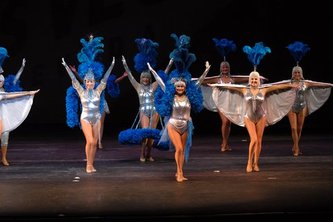 We are a group of senior women from all walks of life from the San Francisco Bay Area who have been performing Las Vegas style musical and dance revues for 15 years. We have appeared at the Paramount Theatre, The Town Hall in Lafayette, Rancheria Indian Casino, El Campanil Theatre, Soper Reese Theatre, Philanthropic organizations, veterans events, senior centers and dozens of other locations.


Depending upon the venue, the cast can vary from 25 to 50 performers. We have been performing for 15 years and put on a few shows a year with different themes for audiences ranging from 200 to 1200.


The Directors and originators of The Golden Follies are a sister team, Diane Stawicki and Susan Bostwick. They have used their extensive performance background in dance to choreograph the shows as well as design the costumes, arrange music and concepts. THey have performed throughout the US and Europe and have appeared with such artists as Wayne Newton, Robert Goulet, Pointer Sisters, Seals and Crofts, Goldie Hawn, Sammy Davis Jr., Juliet Prowse, Rita Moreno, Paul Anka, Vickie Carr, Jack Jones, Welk Cast members, Festus from GunSmoke, Frank Gorshin, Dolly Parton, to name a few.


Our shows run about two hours with an intermission and are seen and appreciated by all ages and backgrounds. We have dozens of routines and can customize shows to themes.


The music for each performance is recorded and is selected to fit the demographic we cater to, standards, the classics, broadway and we keep it fresh and updated using music from current performers as well.


Our shows consist of production scenes so the music is chosen to compliment the specific scene.












---